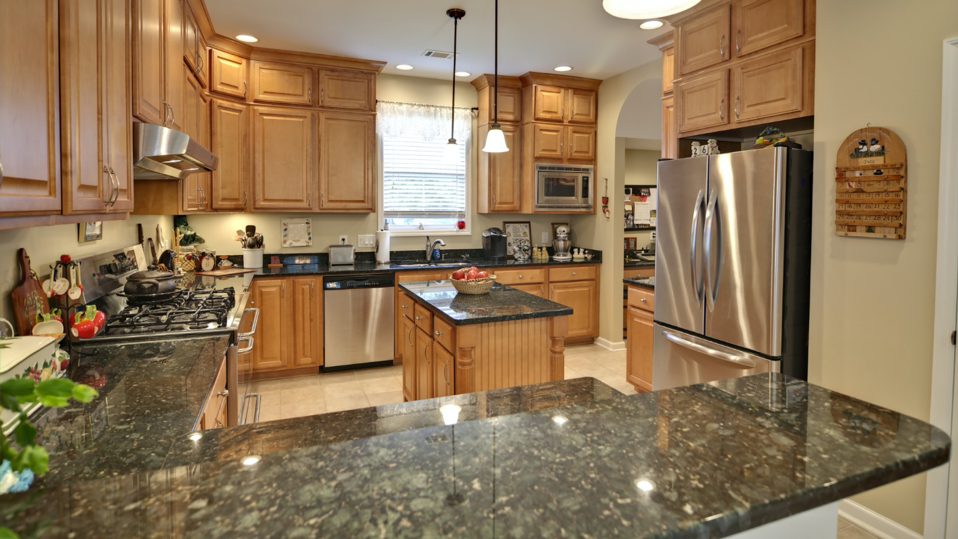 You have taken the home improvement step of installing a granite countertop in the bathroom or in the kitchen. Granite is a beautiful natural stone that immediately enhances the ambiance of the kitchen or the bathroom. The natural stone also delivers rugged durability by resisting strong impacts and prolonged exposure to humid conditions. All of the benefits translate into the biggest benefit of all.
Adding a granite countertop will increase the value of your home.
Make sure you realize the optimal value a granite countertop delivers by knowing the five tips for maintaining your granite countertop.
Easy Cleaning
Some countertop materials are highly porous, which makes cleaning the sides and surfaces an exercise in frustration. With a granite countertop, all you need to do is dunk a washcloth in warm, dish soapy water, and then wipe the countertop a couple of times to remove grime and debris. You should clean a granite countertop after every use to ensure dirt and grime do not build up into an unmanageable mess. You should also be proactive by wiping spills right away.
When You Need a Stronger Cleaning Solution
Easy to use soapy warm water will remove most granite countertop messes. However, there will be a few times when you need to go with a stronger cleaning solution. There are several cleaning solutions on the market that manufacturers market to granite countertop owners. The cleaners are typically pH neutral, as well as safe to use for a family that has young children.
Seal the Maintenance Deal
A good way to look at an effective granite countertop sealant is to compare a sealant with a coat of wax you use to cover your car. Car waxes prevent rain and other types of liquid from diminishing the appearance and functionality of your vehicle. An effective sealant prevents spills and other types of liquid from diminishing the appearance and functionality of your granite countertop.
How to Seal a Granite Countertop
Sealing a granite countertop starts by wiping the surface of the countertop with warm, soapy water, as described on this page. You want to remove debris from the surface to ensure a smooth application of the sealant. Then, apply the sealant according to the directions presented by the manufacturer. Some granite countertop sealants can be easily removed for another application, while other types of sealants are considered permanent additions to a granite countertop. Make sure to decide whether you want a sealant to last virtually forever or for just a year. The type of sealant you use will also depend on how you primarily plan to use a granite countertop. A sealant that lasts for a long time is a good option for a homeowner that primarily wants to use a granite countertop for serving meals. Shorter lifespan sealants work best for homeowners that plan to use granite countertops as cooking and food preparation areas.
Disinfect a Granite Countertop
Although one of granite's appealing characteristics is how the natural stone resists bacteria, you should expect to apply a disinfectant a few times during the lifespan of the granite countertop. Kitchens and bathrooms are fertile areas for the growth of bacteria, so make sure to apply a disinfectant about one time a year on the sides and surface of your granite countertop. The disinfectant you use should not be acidic to avoid damaging the natural beauty of the granite. MamaSuds All-Purpose Cleaner is a great cleaning option as it is safe for granite. A natural disinfectant that is safe for granite is hydrogen peroxide. 
Cuts like a Knife
If prevention is 100% of the cure, then part of the maintenance regimen for a granite countertop is to prevent damage to the surface of the countertop. Granite has a very hard surface that delivers years of uncompromising durability. Nonetheless, granite can be susceptible to frequent uses of finely sharpened knives. When the time comes to display your dicing and slicing skills, make sure to use a commercial-grade cutting board to keep your granite countertop looking in pristine condition.
How to Repair Chips
Despite its reputation for delivering rugged durability, there might come a time when you discover a chipped area of the natural stone side or surface. The standard process for repairing a chipped granite countertop involves filling the chipped area with glue or an epoxy mixture that resists moisture damage. Give the filled area a few hours to dry completely, and then scrape off any extra material to produce a smooth surface. Some chip repair jobs require the expertise of a home improvement professional who specializes in granite countertop maintenance.
A granite countertop can cost a homeowner more than $1,000 to install. The key to receiving the highest return on your home improvement investment is to maintain the look and performance of the granite countertop for years to come.