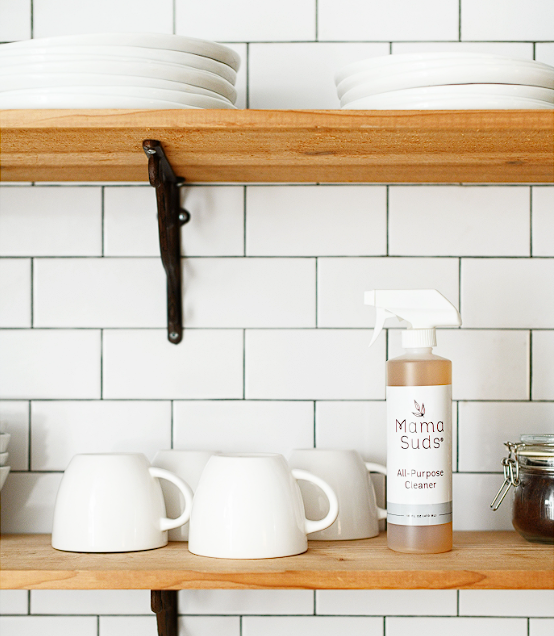 Have you ever wondered what makes a cleaner all-purpose? Generally speaking, these products are soft on surfaces and hard on germs. The idea is to offer one product instead of many for cleaning made simple. After all, we know you've got a million things to do without stressing a mess.
Next up is what sets us apart from the pack. At MamaSuds, we're all about transparency! That's why our list of natural ingredients is anything but secret. Our organic all-purpose cleaner is a completely safe solution that smells like a dream. Keep your kids safe and your counters sparkling with our impressive cleaner.
Our Ingredients
As any mom can tell you, effective cleaning is all about the ingredients. We want the best for our families and know you do, too. That's why we source pure oils and natural solvents for a family-friendly product. Here's what you can expect to find in our all-purpose cleaner:
Water

MamaSuds original formula castile soap (potassium olivate)*

Aloe vera gel, including non-GMO citric acid*

Pure clove bud essential oil

Pure organic cinnamon leaf essential oil

Pure lemon essential oil

Pure eucalyptus radiata essential oil

Pure rosemary essential oil
*Aloe vera gel juice contains citric acid that may be derived from corn. Do not use if you are allergic to corn.
As you can see, there's not a lot to it. Who knew perfection could be so simple? Really, we've found that using the best ingredients in balanced ratios is the secret to our success. Each ingredient offers its own unique benefits, like in the following essential oils.
Clove
Did you know that clove has anti-inflammatory properties? Besides its amazing scent, the clove plant is commonly used in cosmetics to fight inflammation. For example, one scientific study published in 2021 cited its ability to reduce inflammation by up to 20 percent over 3 hours. While cleaning products aren't designed specifically for topical use, our all-purpose cleaner boasts several skin-friendly ingredients.
Lemon
Nothing is as clean as a sun-ripened lemon. Besides its fresh scent, lemon essential oil offers secondary skin benefits. For example, did you know the plant's detoxifying properties are good for oily skin? How about its ability to boost the immune system? That's right: lemons are as useful to the skin as they are fragrant in the home. Good thing we included lemon essential oil in our all-purpose cleaner for yet another benefit.
Rosemary
Rosemary is another ingredient known for its revitalizing scent. Just like lemon, you're likely to find it in kitchen cabinets and cosmetics alike. We thought we'd take things to the next level by adding rosemary essential oil to our all-purpose cleaner for its invigorating fragrance. In fact, this multifaceted ingredient is often considered a tonic to refresh and restore the skin.
Cleaning Instructions
Have you ever wondered what all-purpose cleaner is good for? In short, it's formulated to use on many household surfaces. Every brand and product is different, so your best bet is to read labels carefully. However, most all-purpose cleaners, including ours, are designed to handle routine cleaning on a variety of surfaces.
Stoves
While ovens often require specific cleaners and harsh chemicals, you're free to use all-purpose cleaners on stovetops themselves. These surfaces are easier to clean based on better access and visibility. To clean, simply spray the surface and wipe it down using a microfiber cloth. Buff dry with a towel for a smooth, shiny finish. 
Countertops
If your kitchen has tile or laminate countertops, it's okay to use an all-purpose cleaner. (Ours is definitely safe, thanks to its natural ingredients!) Spray your surface and wipe it off using a soft, dry cloth. For excess grease or residue, spot clean using stronger or more concentrated cleaning products.
Showers
Has your shower seen better days? Stay up-to-date on weekly cleanings using an all-purpose cleaner. Spray all shower surfaces, including the corners and door, for complete coverage. Rinse off and squeegee as needed. Pro tip: use an all-purpose cleaner for regular cleaning and minimal residue.
Floors
Did you know you can use all-purpose cleaner to mop floors? Thanks to its castile soap base, this cleaner can be easily diluted for use on wood, tile, or linoleum floors. Start by running warm water and adding ½ cup of all-purpose cleaner. Mop your floors in the cleaning solution and let dry. Pro tip: add plenty of water. Floors aren't rinsed after mopping, so try to avoid unnecessary residue.
Final Thoughts
All-purpose cleaner is true to its name with a million different uses. Use it in your kitchen, bathroom, or living room floor for completely natural cleaning. Now that you know what it does, what it contains, and how to use it, it's time to try it on for size.
Are you curious about what we have to offer? If so, check out our
online store
for everything you need to know on current product availability. We're thrilled to help other mamas like you get their houses clean while kicking chemicals to the curb. Thanks so much for stopping by, and we hope to see you again soon.