12 ways to live a more sustainable life
1. Think before you shop and become and environmentally conscious consumer
2. Ditch the plastic water bottles
3. Speaking of water.... be water wise! Here are 100 Ways to Conserve Wise 
4. Eat less meat (Resources: Take Extinction Off Your Plate and Reducing Your Footprint 
5. Reduce your household energy use by using the right lightbulb
6. Quit using ridiculous disposable products  
7. Support fashion brands that are ethical and environmentally conscious: Loomstate, Patagonia, and Reformation are just a few you may want to check out
8. Use washable stainless steel straws instead of disposable plastic straws
9. Borrow books from the library instead of purchasing them directly or buy them used from a local used bookstore (now you're buying used AND local!)
10. Donate unused clothing and household items to The Salvation Army
11. Buy second-hand
12. Support local and indie businesses
How many of these do you already do? Which do you feel has the greatest impact? 
• MamaSuds creates liquid soap that is zero-superfat, meaning it will not leave any oils behind during cleaning, making it ideal for people who need a laundry soap that does not leave a residue behind.
• The company does not superfat their liquid soap to avoid skin irritation for those with skin issues.
• DIY laundry recipes can ruin your washer but using MamaSuds Castile Soap in them will ensure the safety of the machine and of the clothes being cleaned.
• Fluff Love often suggest Tide for cloth diaper washing routines due to the lack of understanding around the effects of soaps on fabric, however MamaSuds DOES work for cloth diapers.
Unpaper Towels: worth the investment?
Almost three years ago, I took the plunge and stopped buying paper towel. It was a big decision that I didn't have a lot of support for, but I promised a trial period. In that trial period my husband was diagnosed with a very large menengioma brain tumor. After this diagnoses he was very supportive because he really wanted to rid our home and lives of unnecessary exposure to harmful ingredients.
One of his best buddies worked in the paper industry and put it into perspective for us: "Wood does not soak up water. What kind of chemicals and additives do you think they put on wood pulp to make paper soak water like paper towel does?" Hmmmmm.... The less chemicals we were exposing ourselves to the better. This is a great article that Growing a Green Family wrote about paper towels. 
After our trial period, we both were in agreement, we could definitely live without it.  Are there times we wished we had something disposable? Yes, like when a bottle of wine dropped out of the fridge.... Or I dropped a jar of salsa.... Yes I wish we had a roll. But in all honesty, it hasn't been as hard as we thought.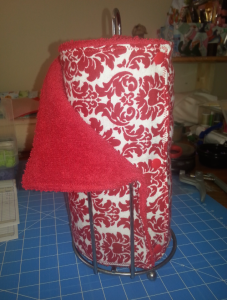 Where can you get "unpaper" towels? Etsy is a great place, I love supporting small handmakers. Local is even better! You can get them with snaps and put them on your existing paper towel roll dispenser. I did that for awhile and then I just stopped and now they get put in with the other towels. I am actually looking to replace the ones I bought three years ago, so I definitely think it's a great investment.
What do you think? Is it something you could try?